Do you ever wish you could have that old bike you had as a kid?
Now you can...contact us for details!
We buy old dealer inventory!
Any New old stock parts from Honda, Suzuki, Kawasaki or Yamaha. From small inventory to entire dealerships!
Click here for details!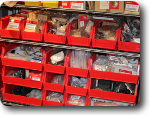 "I had all My Rupps and the El Gato restored by Mike at Vintage Motorsports. There are some definite challenges in getting bikes this old back to OEM spec, particularly if you want factory available options like DelOrto carbs, brand specific pipes, speedos, etc. Mike makes it happen! And the level of finish has to be seen to be believed...absolutely over the top!"
Rich Winkler ~ Dirt Wurx
"We took delivery of your bikes yesterday. I am very impressed with your work Mike. Not ever have I (we at cms) seen such beautiful and accurate restorations. The packing was perfect, all in all you have proven to be a super professional and I can only look forward to work with you in the future! You are truly the best restorer I have been dealing with so far and I cannot thank you enough for the incredible job you did for us!"

Best regards, Met vriendelijke groet, Yoroshiku onegaishimasu, Mit freundlichem Gruß

Michael W. Buttinger
Proprietor / Director CMS
Neatherlands